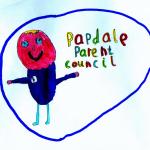 The main role of the Parent Council is to represent the views of all parents and encourage links between the school, parents, pupils, pre-school groups and the wider community. Other activities may include supporting the school in its work with pupils, playing a role in the appointment of senior staff and fundraising for school projects. National guidelines on how Parent Councils operate can be found on the Scottish Government website
The Annual General Meeting of the Papdale Parent Council is held in Term 1 each school year with all parents (the Parent Forum) invited to attend.  At that meeting the Parent Forum will  elect parents  to serve as outlined in the Papdale Parent Council Constitution.
Parent Council Meetings are held each term to discuss any relevant issues raised by parents. Members of the Parent Form are welcome to attend these meetings and minutes from the meetings are posted on the school website.
Parent Council often arranges fundraising events to support the schools through providing additional resources to enhance the learning experience of the children.   Click here for more details
If you would like more information on how the Parent Council operates or you would like to raise any issue please contact one of the serving Parent Council Representatives or email the Parent Council at  papdalepc@gmail.com.
Want to know More?
For more information on how Parent Council operate the Connect.scot website is an excellent resource whether you are already involved as a Parent Representative or just interested to find out more.
Parent Council Representatives 2020-21
At the Annual General Meeting of the Papdale School Parent Council held on Monday 28th September 2020 the following parents were elected to serve this school session.
Office Bearers
Lynne Spence (Chairpersons), Lesley Bews (Vice Chairperson), Ruth Lea   (Secretary), Katie Croy(Treasurer)
Committee
Lisa Gibson, Inez Moss, Joanne Tait,  Elaine Bain, Ashleigh Gillespie. Dawn Williams, Dawn Stanger,
Parent Council meetings are normally held termly at Papdale School and parent forum members are welcome to attend. The dates set for meetings this school year are as follows:
Dates of Future Meetings
01 November 2021
17 January 2022
24 April 2022